Take your brows to the next level with Phibrows!
We all know how important our brows are and they certainly aren't a one size fits all! Everyone's brows are different, good brows will frame a face, soften features, create a more youthful appearance and enhance your natural beauty. With Phibrows we can offer personal, specialised treatments which cater for your unique needs.
We have three different treatments available; Microblading, PowderBrow and Combination
The process takes 2-3hours, a top up is recommended 6 weeks after initial treatment and lasts 18-24 months.
PhiBrows Pricing; Prices below include initial treatment and top up.
Microblading- £300
PowderBrow- £300
Combination- £350
After care –
It is important that you take proper care of your brows post-treatment to ensure they stay looking lovely and full. No water or make up for 10 days following the treatment, avoid steam, swimming or sweat. How well you look after your brows is an essential part of the process and will effect how long they last.
Get in touch with Caroline today a skin consultation and find the right brow for you!
Microblading is a hyperrealistic technique of drawing eyebrows manually using a fine blade.  Eyebrows are carefully shaped and defined by hand. Fine lines are scratched into the top layer of the skin with blades and colored with pigments. This makes eyebrows look fuller and means that they retain a good shape for several months without make-up.
Microblading is not suited to all skin types, ie; Oily Skin, Sun damaged or mature skin.
Get in touch for a consultation with Caroline today!
Powderbrows are created using a Shading machine, rather than a fine blade. The pigment is placed gently into the skin with a quick hand motion, leaving a lovely airbrush effect filled in brow. This is a softer, gentler treatment than Microblading and is suitable for all skin types.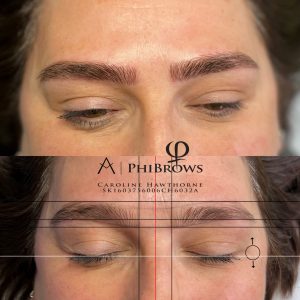 Get in touch for a consultation with Caroline today!
Combination is the best of both Microblading and Powder brow. Hair strokes are added using Microblading and Powder brow shading is then used to create a natural blend with the your existing brow. This leaves a lovely soft, natural full brow with defined hair strokes.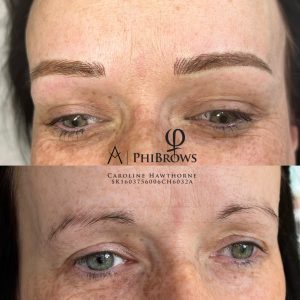 Get in touch for a consultation with Caroline today!